It's no secret that Americans love cars, with over 90% of households having at least one vehicle. Even if you love driving, there are many benefits to taking public transportation to the airport, including avoiding costly airport parking, reducing your carbon footprint and not having to worry about traffic.
Here we dive into five U.S. airports with great public transportation. 
The main factors that we considered to pick the best U.S. airports for public transportation are:
Time it takes to get to the airport by public transportation vs. driving. A good public transit option can get you to the airport quicker than driving, especially during rush hour.

Cost. We gave preference to budget-friendly options.

Proximity of public transportation to popular tourist areas and hotels. Since you'll likely be carrying luggage, we gave preference to public transit near popular tourist areas and hotels. 

Frequency. Public transit that doesn't run frequently — like Philadelphia's airport train service, which runs only once an hour — didn't make the cut.

Trains over buses. We gave preference to trains because they run on a set schedule, while buses can get stuck in traffic, leading to missed flights.
With our criteria in mind, here's our list of five U.S. airports with great public transportation.
1. San Francisco (SFO)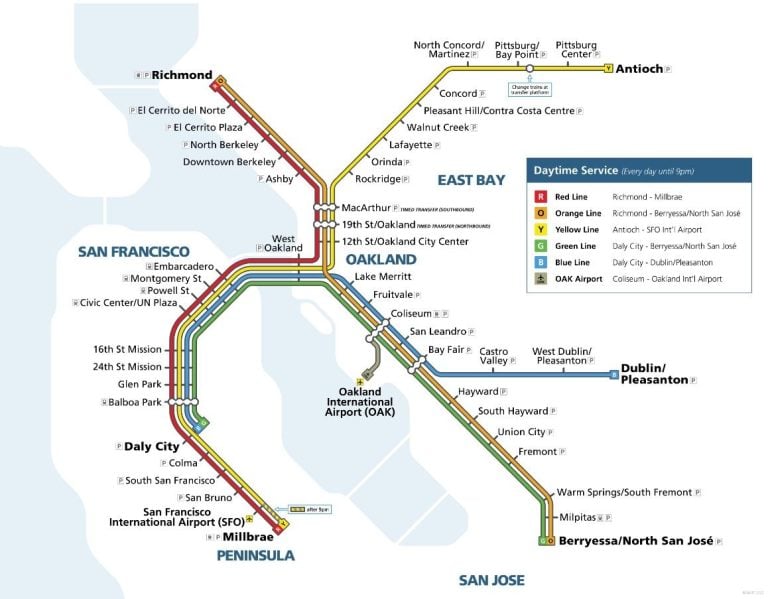 San Francisco International Airport (SFO) has some of the best public transportation in the U.S. because of the Bay Area Rapid Transit (BART) trains that run frequently with many convenient stops, including the Mission, Embarcadero and Oakland.
Taking the BART from downtown San Francisco to SFO is budget-friendly, too — with a one-way ticket from Embarcadero to SFO costing $10. BART also makes it easy to pay for your trip to the airport, as you can use your phone as your ticket with Google Pay or Apple Pay. (Visit https://www.bart.gov/tickets for instructions on how to pay with your phone.)
2. Denver (DEN)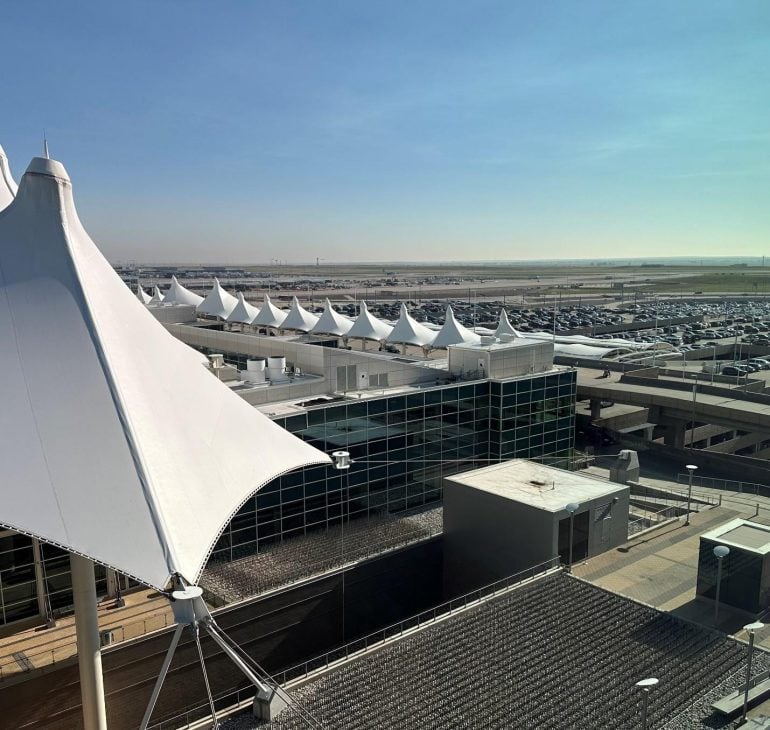 Denver International Airport (DEN) has a convenient and budget-friendly train that runs from Denver's Union Station and drops you off directly at the airport. Trains are timed 15 minutes apart (except for late nights, early morning and certain holidays), which means that you won't have to wait long for a train to come.
The train journey — also called the A Line — costs just $10.50 each way, and the fare also gets you unlimited same-day travel on Denver public transit.
3. Atlanta (ATL)
The Atlanta airport is the busiest airport in the world. Even though the airport can get a bit hectic, it has one of the best public transportation systems of any U.S. airport. The Metropolitan Atlanta Rapid Transit Authority (MARTA) has a station inside ATL's domestic terminal and connects directly to downtown Atlanta.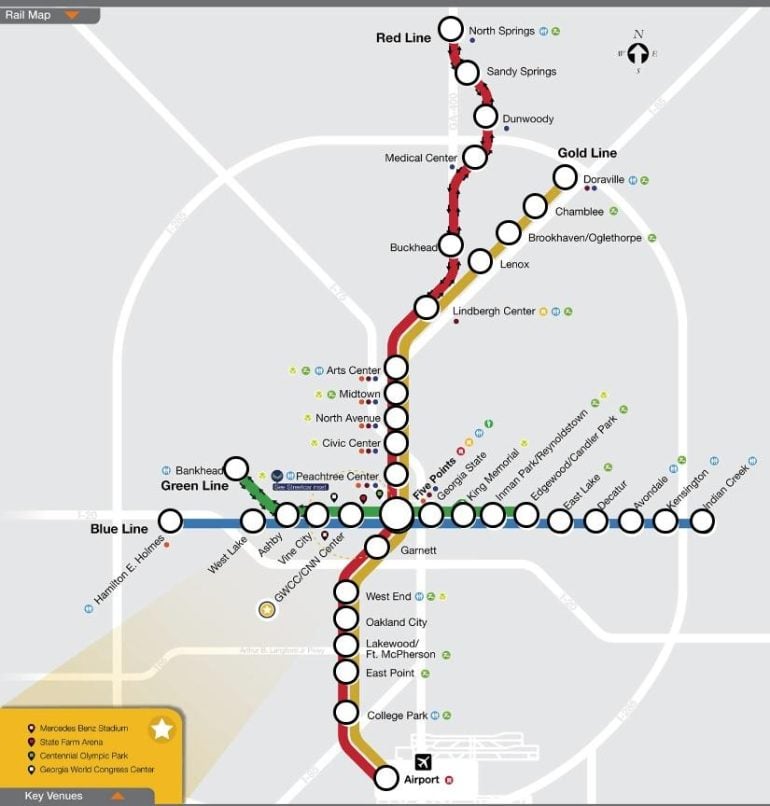 MARTA's airport trains run approximately every 12 to 20 minutes, and with tickets only $2.50 each way, the MARTA train makes ATL one of the best airports in the U.S. for public transportation.
4. Chicago-O'Hare (ORD)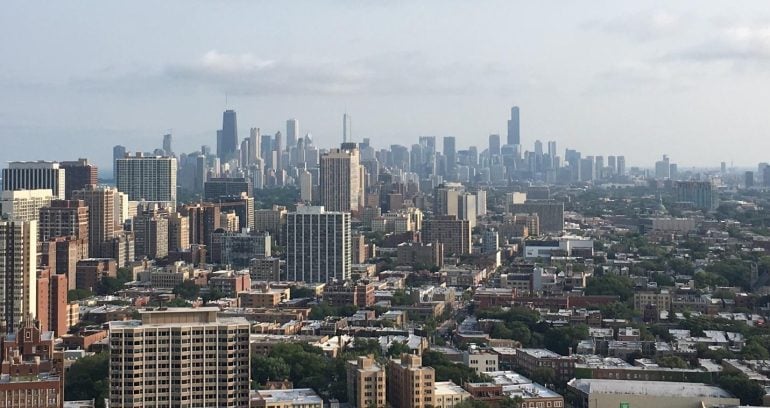 Chicago-O'Hare (ORD) is one of the best U.S. airports for public transportation as its famous "L" (originally short for "elevated") train connects directly to Terminals 1, 2 and 3 of ORD (with a free airport shuttle for other terminals).
On weekdays, the airport trains (which are on the Blue Line) generally run every one to 10 minutes, and weekend trains run every seven to 20 minutes. A train ticket from Chicago's downtown to ORD costs only $5. The trip takes roughly 45 minutes, a journey that can easily take up to 90 minutes by car during rush hour.
5. Washington-National (DCA)
One of the best airports for public transportation is Washington-National (DCA), located just outside Washington, D.C. Washington's Metrorail system (called the "Metro") connects directly to Terminal 2 in DCA, with a maximum fare of $6 per one-way trip, though you'll need to purchase a SmarTrip card at the Metro station.
There are two Metro lines that connect directly to DCA — the Blue Line and the Yellow Line — meaning you can take the train directly to and from some of the most popular areas of Washington, including the Capitol, Foggy Bottom and the National Mall.
The bottom line
With frequent, convenient and budget-friendly trains, some of the best airports for public transportation in the U.S. include San Francisco, Denver, Atlanta, Chicago-O'Hare and Washington-National.
If you find yourself flying to or from any of these airports, we'd recommend checking train schedules and options as they may be better than driving or taking a taxi/rideshare.
How to maximize your rewards
You want a travel credit card that prioritizes what's important to you. Here are our picks for the best travel credit cards of 2023, including those best for: