This content contains affiliate links. When you buy through these links, we may earn an affiliate commission.
November 23rd is the 60th anniversary of Doctor Who. The BBC will release three new specials soon, featuring the Fourteenth Doctor (David Tennant), Donna Noble (Catherine Tate), and introducing the Fifteenth Doctor (Ncuti Gatwa). The specials will air on the BBC on three consecutive Saturdays: November 25th, December 2nd, and December 9th. They'll stream on Disney+ outside the UK and Ireland.
Fans often call Doctor Who a show with no canon. The expanded media complicate — or even contradict — one another and the show. But that works perfectly for this "timey-wimey" franchise, filled with parallel universes and alternate timelines.
From 1989 until 2005, known as the "Wilderness Years," Doctor Who was on hiatus. Still, there was plenty of new content. Fans published stories and essays in zines. Virgin Books published 94 new Doctor Who books. In 1996, Paul McGann starred as the Eighth Doctor in the TV movie. The Big Finish audio dramas (often featuring actors from the TV series) also started during the hiatus. After the TV series relaunched in 2005, some books from this era were adapted into TV episodes.
There are hundreds of Doctor Who books in total, across several series, and even a cookbook! So, before the anniversary specials, here are a few recommendations. As River Song would say: spoilers!
Virgin Books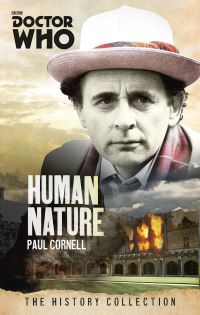 Human Nature by Paul Cornell
This is one of the most original and influential Doctor Who novels ever. In 1914 England, the Seventh Doctor becomes human to understand his companion Bernice's grief. Cornell later adapted his own novel into "Human Nature" and "The Family of Blood," a two-part TV story about the Tenth Doctor and Martha. Despite the similar setting and premise, the Doctor's motivations are different here. On TV, the Doctor turns himself human to hide from the Family of Blood: aliens who want to consume a Time Lord.
New Series Adventures (NSA)
In 2005, BBC Books began publishing middle grade and young adult novels featuring characters from the relaunched TV series. The first NSA book was The Clockwise Man with the Ninth Doctor and Rose Tyler. There have been 63 NSA novels alone, not counting other series.
Doctor Who graphic novels, comic books, and NSA novels tell new stories that never aired on TV. In contrast, novelizations narrate and expand on existing TV episodes, sometimes fixing continuity issues in the process.
There are many Ninth Doctor novels, comics, and audio dramas. This is exciting because Christopher Eccleston set the standard for the new series Doctors and regretted leaving the show after only one season.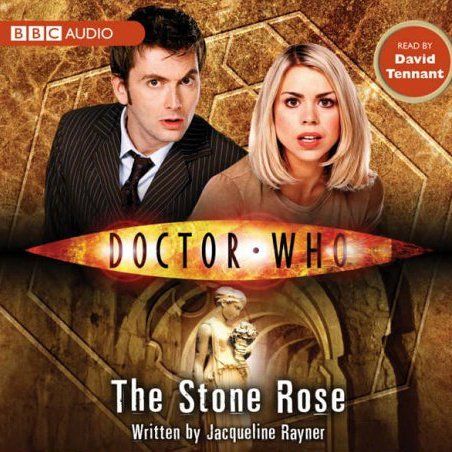 The Stone Rose by Jacqueline Rayner, audiobook narrated by David Tennant
While David Tennant was playing the Tenth Doctor, he narrated audiobooks of three Tenth Doctor novels: The Stone Rose, The Resurrection Casket, and The Feast of the Drowned. In The Stone Rose, Mickey discovers an ancient Roman statue in the British Museum that looks exactly like Rose. Because this is Doctor Who, it IS a statue of her, and the TARDIS soon sends Rose and the Doctor to the Roman Empire. This novel is especially popular in the fandom for the kiss between the Tenth Doctor and Rose.
Combat Magicks by Steve Cole, audiobook narrated by Mandip Gill
This Thirteenth Doctor adventure features Yaz, Ryan, and Graham in the final days of the Roman Empire. The audiobook was narrated by Mandip Gill while she was playing Yaz on the show. The armies and aliens in this story might have made it too expensive to film. A Roman secret society, the Legion of Smoke, is especially intriguing. It's always tense when ancient characters assume aliens are magicians or witches.
Comic Books and Graphic Novels (Titan Comics)
Empire of the Wolf by Jody Houser, illustrated by Roberta Ingranata, coloring by Warnia K. Sahadewa, lettering by Richard Starkings
This book offers answers to fans' questions like: What was Rose Tyler's life like after "Journey's End"? Here, many years later, Rose is happily married to the Meta-crisis Doctor (a half-human version of the Tenth Doctor). He calls himself John Smith, the Doctor's frequent alias on the show. John and Rose have a teen daughter, Mia. The Eighth and Eleventh Doctors meet Rose Tyler, plus Empress Rose, a planet-conquering, alternate reality version of Rose.
Coloring Books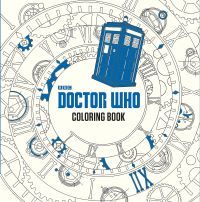 Doctor Who Coloring Book by James Newman Gray, Lee Teng Chew, and Jan Smith
I own and love both Doctor Who coloring books. The first one has more Classic Who and is organized by each Doctor. It was published while Peter Capaldi was the Twelfth Doctor, so it includes collages of Doctors 1 through 12. There are also lots of abstract, challenging patterns of Daleks and the TARDIS. This style is popular for adult coloring, but I prefer to color people and scenes, not designs.
Doctor Who Travels in Time Coloring Book by James Newman Gray, Lee Teng Chew, and Jan Smith
Both coloring books are beautiful, but I prefer this one. Here, the Doctor's adventures are organized chronologically by the eras visited. It has more of the Tenth Doctor and his companions (my favorite era!), more line art of individual episodes, and fewer collages and abstract designs. So, I found it easier and more interesting.
Puffin Classics Crossovers
This series of crossovers between Doctor Who and classic, public-domain literature started in 2021.
Legends of Camelot by Jacqueline Rayner
I like any version of the King Arthur legend, and this is a fun adventure with the Tenth Doctor and Donna! Of course, Donna has a crush on Lancelot. Alternate dimensions provide a sci-fi explanation for the contradictory versions of Arthurian legends.
According to one fan theory, the Doctor was Merlin in another dimension. I dislike this theory because Merlin's abusive actions would be out of character for the Doctor. In some medieval Arthurian tales, Arthur is conceived because Merlin enables Uther Pendragon to rape Igraine. Without mentioning sexual assault, Legends of Camelot still makes it clear the Doctor is NOT Merlin.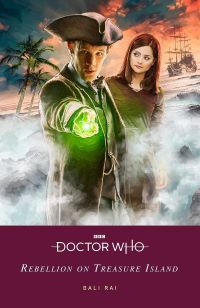 Rebellion on Treasure Island by Bali Rai
The Eleventh Doctor had a pirate TV episode: "The Curse of the Black Spot" with Amy and Rory. This book with Eleven, Clara, and River has a totally different approach. I always enjoy pirate adventures and Clara and the Doctor affectionately bickering. In this story inspired by Treasure Island, an 18th-century British man calls the Doctor after valuables are stolen from King George II's crown. Of course, there are alien mists, but this book also mentions colonialism and pirates' involvement in the slave trade.
More From Doctor Who Fans
Back in 2016, BR's Jenn Northington interviewed romance novelist Alisha Rai on her hopes and predictions for Doctor Who. She suggested Donna reuniting with the Doctor and regaining her memories…plus a female Doctor! Over seven years later, this seems right on the money.
This is only a small sampling of the hundreds of Doctor Who books available for your perusal, but they're a great place to get started while you count down until the 60th anniversary specials!