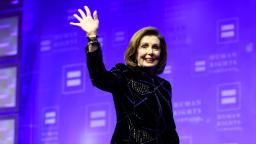 CNN
 — 

Former House Speaker Nancy Pelosi, 83, said Friday she will run for reelection in the US House next November, the California Democrat announced.
In a post on X, Pelosi said, "Now more than ever our City needs us to advance San Francisco values and further our recovery. Our country needs America to show the world that our flag is still there, with liberty and justice for ALL. That is why I am running for reelection — and respectfully ask for your vote. -Nancy".
By running for reelection, Pelosi is poised to extend her lengthy career on Capitol Hill that began by winning a special election in June 1987, further cementing her role as a towering figure in Democratic politics in Washington and on the national stage. Pelosi has been a trailblazer for women in politics through her career, but has also been a uniquely polarizing figure in American politics, making her a prominent target of Republican criticism.
Pelosi served twice as House speaker, first from 2007-2011 as the first woman to hold the job, and reclaimed the gavel again in 2019. She stepped down as speaker and Democratic leader in January when Republicans took control of the chamber. House Democratic leader Hakeem Jeffries has since served as her successor.
Questions surrounded Pelosi and whether she would remain in Congress, or run for reelection following a brutal attack on her husband, Paul, in October 2022 in their San Francisco home.
This story has been updated with additional developments.